DESIGNED BY SIKORSKY FOR NON-STOP TRANS-ATLANTIC SERVICE, THE FLYING BOAT CARRIED PRIORITY PASSENGERS AND FREIGHT UNDER CONTRACT TO THE U.S. NAVY AND ARMY UNTIL DECEMBER 31, 1944.
Designed For
LONG DISTANCE
"Excambian" is the only surviving aircraft of three built by Sikorsky for non-stop trans-Atlantic service. It was delivered in May, 1942 and flew its first passenger-carrying flight on June 22, 1942 painted in Navy camouflage. The flying boat carried priority passengers and freight under contract to the U.S. Navy and Army until December 31, 1944.

From January, 1945, Excambian flew scheduled passenger service for American Export Airlines until late in 1945 when it, along with its one remaining sister ship, "Exeter," ("Excalibur," had crashed in October, 1942), was retired and replaced by the land-based Douglas DC-4. The two planes were put up for sale and subsequently flew for several different airlines.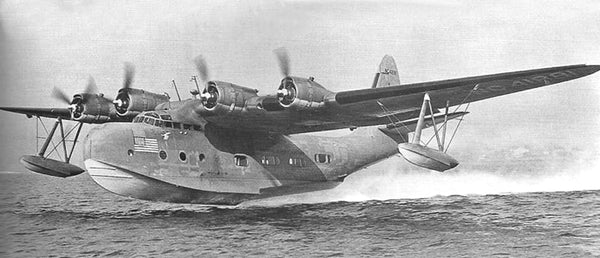 1967

In 1967, Charles Blair, who was the Chief Pilot on the first test flight of the flying boats and the husband of actress Maureen O'Hara, was able to purchase Excambian for Antilles Air Boats to ferry passengers among the Virgin Islands. In 1969 it was extensively damaged beyond economic repair.
1976

In 1976, the Blair's donated the plane to the National Museum of Naval Aviation in Pensacola, FL. With permission from Ms. O'Hara who was now widowed, the Navy in 1983 transferred the aircraft to the New England Air Museum on permanent loan. Excambian was then shipped by barge from the Gulf of Mexico to Bridgeport, CT.
1987

A massive restoration project was begun at the New England Air Museum in 1987 by a team of volunteers, with Sikorsky support, to bring this historic craft to displayable condition. Many of the volunteers were Sikorsky retirees who had worked on the original construction of the planes.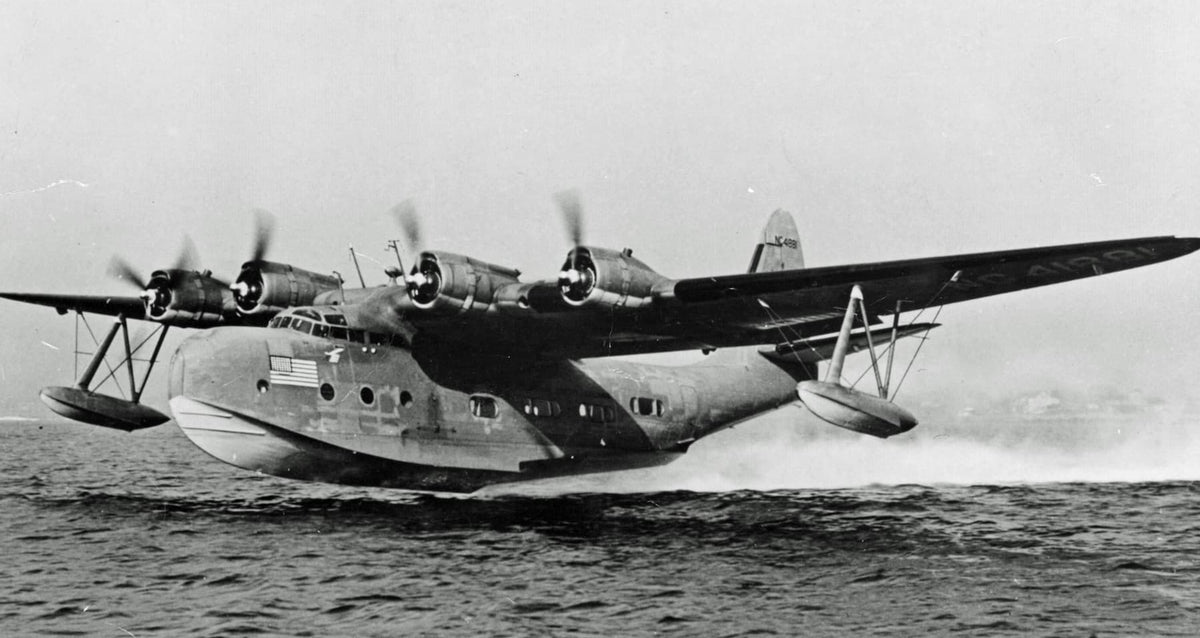 FUN FACT
The three original VS44 aircraft were dubbed the "Flying Aces" and named the Excalibur, Excambian and Exeter. 'Excambian' is the only one remaining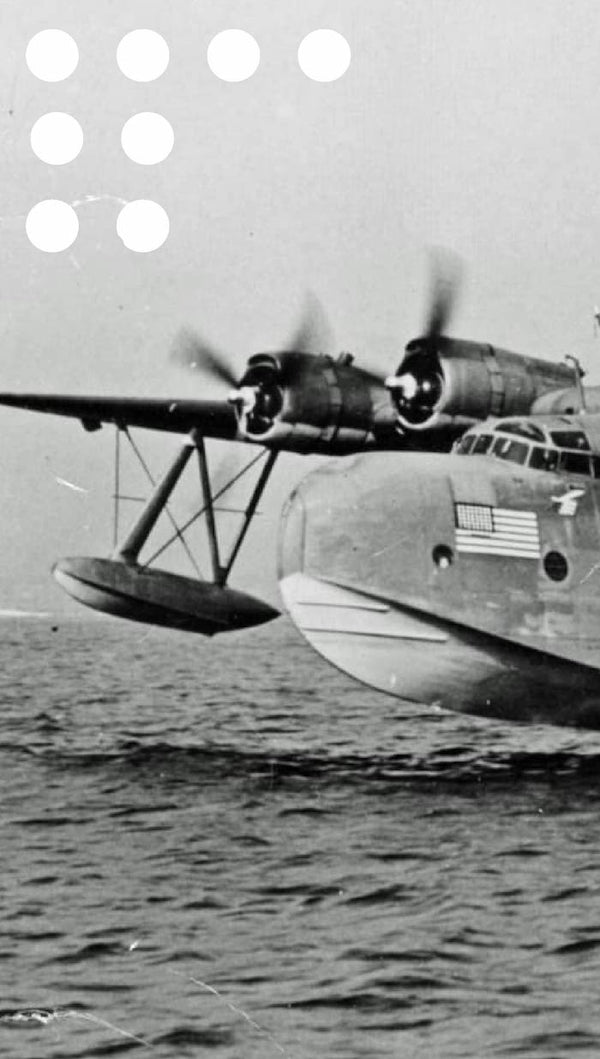 Did you know?
The primary mode of long-distance air travel over oceans in the 1930's was in flying boats. One advantage was the simple construction of docking facilities on shore, rather than having to construct runways. Another was the ability to land in the sea in the event of a malfunction.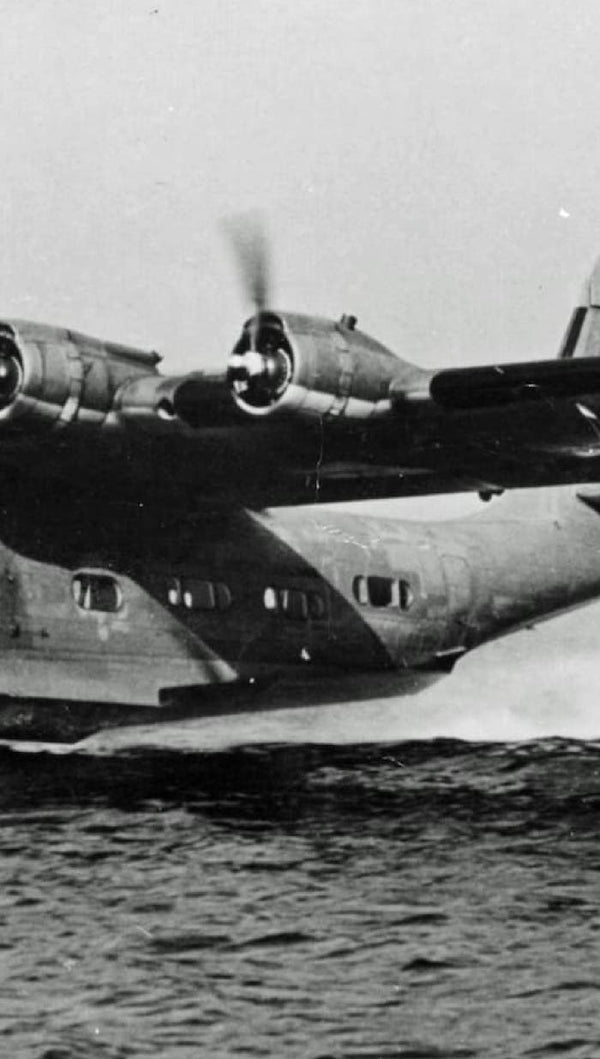 Engine
The plane was powered by four Pratt & Whitney Twin-Wasp radial engines that produced a combined 4,800 horsepower for take-off and a cruise speed of about 210 miles per hour.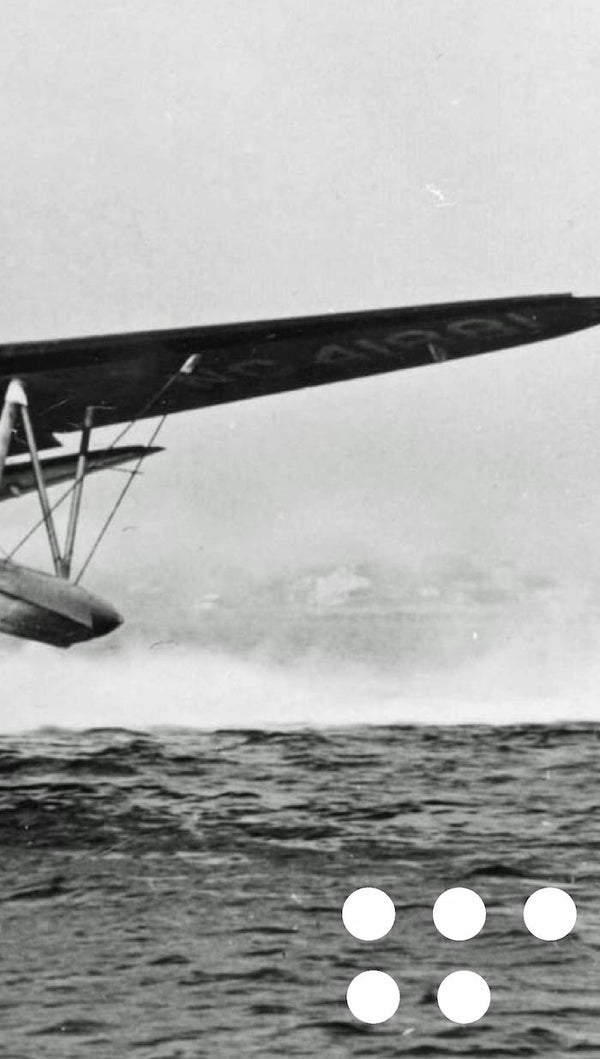 Innovation
The VS-44 offered luxuries that were unmatched by any other contemporary aircraft: roomy dressing rooms, full-length beds, individual sofas, a full galley for serving hot meals, lounge and smoking room, proper heating and ventilation, and sound proofing (to name a few).
Igor Sikorsky Memorial Exhibit
AN INNOVATIVE GENIUS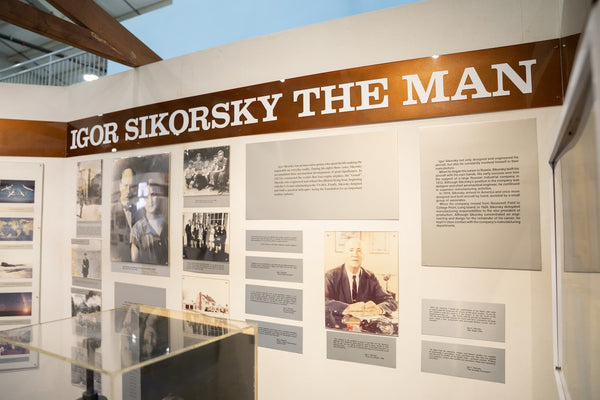 Igor Sikorsky: An innovative genius who spent his life making the impossible an everyday reality.