SOAR FOR STEM
SOAR for STEM is an inquiry-based program that blends STEM curriculum frameworks with our region's aerospace legacy. Through hands-on learning, focused investigations, and guided exploration, students utilize critical thinking and observation skills in a unique, three-part educational experience. Since its inception, SOAR has served over 35,000 students from twelve communities in Connecticut and Western Massachusetts. Feedback from students and educators highlights the SOAR program's ability to bring STEM and history curriculum to life in meaningful ways.
&nbsp
For more information, please contact:
Amanda Goodheart Parks, Ph.D.
Director of Education
860-623-3305 X313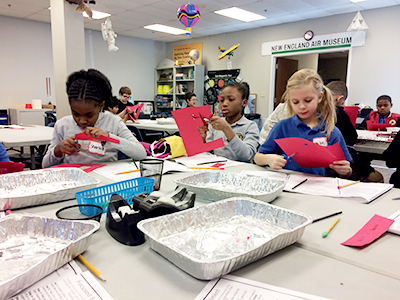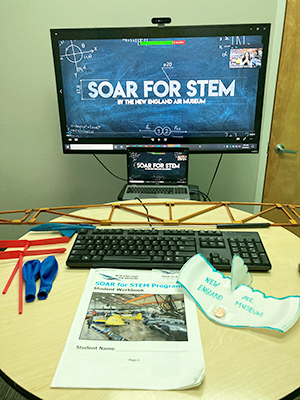 "This was by far the most informative, educational, and fun museum visit we have ever experienced!" Fourth grade teacher, Westfield, MA
"Everything about SOAR contributes to it being the most worthwhile trip we take in fourth grade." Fourth grade teacher, Middletown, CT
"I truly believe SOAR for STEM inspired my students to consider engineering or aviation as a future career. Without this experience, they wouldn't know about these possibilities." Fourth grader teacher, East Hartford, CT
"The blend of direct instruction, videos to illustrate concepts, and opportunities for student participation engaged students for the entire experience, which was especially remarkable given the challenge of teaching in a virtual environment." Fifth grade teacher, Middletown, CT
During the 2020-2021 school year, the SOAR for STEM program pivoted to virtual to meet the needs of our partner districts. Virtual SOAR for STEM provided over 2,000 local students with custom supply kits delivered to local schools, two 60-minute virtual sessions with museum staff, and free admission passes to enable in-person family visits to the museum. Here's what SOAR for STEM teachers had to say about our AAM award-winning virtual pivot:

"The way you made a virtual field trip engaging and enjoyable was masterful!" Fourth grade teacher, Torrington, CT
"The museum passes will allow all students the opportunity to visit the museum regardless of their financial situation. It is also an excellent educational outing activity for families to take advantage of during the pandemic where safe, in-person learning experiences are limited." Fourth grade teacher, Vernon, CT